Latest offers
JD for a new term.
Presenting the latest campaign, building layered looks from hero brands including Nike, adidas, Ellesse, North Face, and more.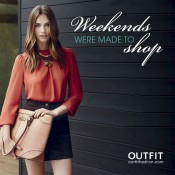 Weekends are made to shop but you can also head to OUTFIT every day of the week. From Monday to Sunday you'll find all of your favourite brands under one roof. Shop the new autumn collections from Wallis, Warehouse, Oasis, Dorothy Perkins, Topshop, Miss Selfridge and Fuse and rock the new season's styles all week long.
Costa are very excited to announce a new and improved Coffee Club app that's now live and ready for you to download.
With all your Coffee Club details in the palm of your hand, there's no need to carry your card. To collect points the easy way, simply scan your phone at the till whenever you make a purchase. You also have instant access to your balance, updated in real time.

News & events
As much as we'd like to believe that we're still to get the indian summer we've been promised... Britain's fashion powerhouse has it's eyes set on Autumn / Winter as Next launches the new season's first collections. 
Bargain Buys are celebrating the launch of a fantastic new range of Minions merchandise. As part of the fun, they're giving away family tickets to see the new Minions film, now showing in cinemas.
Make the most of the natural light to perfect a flawless glow
Have your say
Hurrah! Paul, Mary and the whole GBBO team are back this week, cooking-up more TV gold. Remember these? Which takes the biscuit? Pictures: Great British Bake Off / Love Productions / BBC